The Swallow at the Hollow presents:
Paul Jefferson, Jon Michaels, and Ray Herndon
Roswell, GA - - - April 6, 2001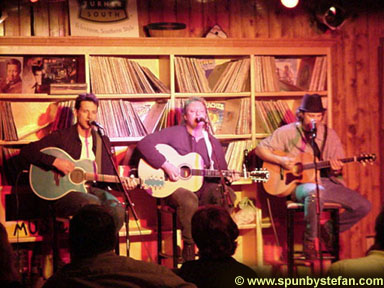 Paul Jefferson, Jon Michaels, and Ray Herndon
A review by Stefan
The Swallow at the Hollow, in Roswell GA has become one of my favourite music venues of late thanks to the Bluebird Cafe in Nashville. Every week they arrange for a trio of singer/songwriters to come down to Roswell and perform on Friday and Saturday nights. So far, it's been an amazing run of excellent talent. This show was no exception.
The place had an air of excitement as everyone ate their barbecue and talked about the show to come. The Swallow at the Hollow was recently voted the best barbecue in Atlanta by the Creative Loafing newspaper and most people arrive early enough to enjoy the outstanding food.
But it seemed somewhat ominous to when I hadn't seen any of the performers yet, and it was only minutes to showtime. Presently Jon Michaels came in and we found out the remaining performers were still enroute from the airport. But the patrons of the Swallow are a happy bunch, and no one seemed to mind the delay as food, drink, and the friendly comradery continued.
Shortly after 10pm, Paul Jefferson and Ray Herndon arrived and took their places on stage straight away. A sure sign of professionalism they didn't delay a moment but went directly to playing. Jon Michaels paused just long enough to warn us that he'd suffered a dryer incident earlier in the day and his clothing was still wet. He said he was being extra careful around the electrical cords.
Jon Michaels opened with the very up beat song, Who's Fooling Who?. Paul Jefferson followed with the ballad I wonder and Ray Herndon finished the first round with the song, We can't get any Higher.
Each performer played one song then passed to the next. Paul Jefferson's easy style and Texas twang reminds me of Lyle Lovett without the wild hair. He has a little boy charm that easily won over the audience. Jon Michaels was more serious with songs that took us on an emotional journey from sorrow, to self reflection, to pure joy and comic laughter. His lyrics make you reflect on life and brought tears to the eyes of many present. Thankfully, there were humorous anecdotes and funny songs mixed in or we'd all have left in tears. Ray Herndon plucks his guitar so well, it's easy to understand why everyone in Nashville wants him to play on their albums. He's an accomplished studio musician and has appeared with numerous bands and on many albums.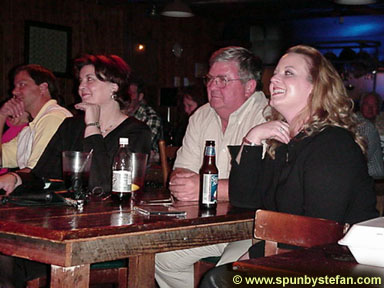 The singing continued in the round with regular jokes and anecdotes. A recurring topic was a one hundred year old woman called Miss Fannie that had become the subject of several songs and had become a major inspiration. Her passing last October had been met with both sorrow for her loss and joyous celebration for her wonderful life and gifts to others. She was 107 years old.
There were moments of hilarity as Paul Jefferson tried to sneak off the stage, first for a nature break and then for a snack and the others gave him verbal abuse. Ray Herndon's turn came a little while later as the hours cooped up in the car and airplane finally caught up to him and he too answered the call of nature.
The music continued past midnight as the cheering crowd finally ended the evening with a rousing standing ovation for the three performers. This was a wonderful grouping of singer/songwriters at an amazing venue for a memorable night. Y'all missed something great if you weren't there.
The Swallow at the Hollow
1072 Green St. Roswell, GA 30075
For reservations call (678) 352-1975

Congratulations to Doreen and Paul on the birth of their daughter, Abby on April 16th.
Questions, comments, corrections always welcome.
This material is the property of Stefan and is not to be posted on other websites or published in any medium without express written permission. This site is not affiliated with the Swallow at the Hollow or the Bluebird Cafe..
---