The Infamous
Annie Sprinkle
Herstory of Porn: Reel to Real
7 Stages Theater - Friday August 6, 1999
Annie Sprinkle brought her one women show: Herstory of Porn: Reel to Real to Atlanta's 7 Stages Theater for a very interesting show. However you feel about pornography you have to recognize that Annie Sprinkle is one of the most famous/infamous people in field, and her side of the story is going to make you think.
Writer's note: There was ample opportunity for more adult pictures and audience shots but I do not want to offend anyone or most importantly those providing this free webspace. It was a very adult themed show - that should be obvious. If you want the real juicy stuff: see the show yourself.
Dolores French, a well known Atlanta writer for The Scene newspaper and self confessed "Working Atlanta Prostitute" as she proudly admits, opened the show with her bawdy and very funny comedy routine. Mostly satirical observations about sex laws both in Georgia and Texas she had the audience in stitches. Her biting humor was really funny and entertaining. "In Georgia it's legal to carry a gun, but you'll go to jail if you're caught carrying a dildo. It's obvious to see what the legislature is really afraid of."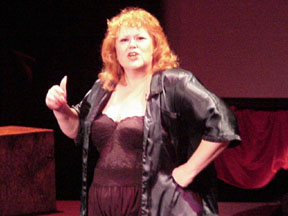 An outspoken advocate of sex worker's rights, Dolores French has worked on the Mayor's Task Force on prostitution (in Atlanta) and founded HIRE (Hooking is real employment). She is also working on her own one women comedy show that she plans to take on the road in 2000.
Annie Sprinkle's show was divided into seven segments as she discussed the different phases of her career. It was very enlightening to see how she started, how the field developed and changed and how it was affected by AIDS.
As we moved from segment to segment two things changed. First was our virtual location, where we were suppose to be viewing the film loop. The second thing was her outfit. As we watched her film clips on the big screen she narrated and embellished the scene and also changed her costume. It's kind of silly to be modest when people are watching you have sex on the big screen so she changed on stage in front of us. Don't be too shocked - she was never actually nude in the theater.
I'll probably mix this up, I'm not a reporter and I didn't take notes. If anyone can clarify this area please send what you've got. These are my impressions and highlights - your mileage may vary
Part 1 - Hollywood
| | |
| --- | --- |
| | Annie in pigtails described the early day of porn and her introduction to the industry. Her life as a Teenage Deviate. She was selling popcorn in the theater showing the first run of deep Throat and, after the film was confiscated by the FBI, she had to appear in court. She was thrilled to meet the directors and stars of the movie and the rest is herstory. Free popcorn was available for all. The really good movie type popcorn too. |
Part 2 - San Francisco
| | |
| --- | --- |
| We were transported to some sleazy theater where we got to see her more bizarre and kinky movies. What she calls Sluts and Slobs. She called out to Guido to start the film. The action was rougher and Annie described it as an uninhibited period for stretching the boundaries and trying new things. Everyone in the porno industry was experimenting to see how far it could go. I have to confess this was my first experience with Rainbow showers. I'd heard of the magazine Splosh but nothing like her Campbell's soup scenes. There were many industry Fads that I'm glad I missed, but still, it was enlightening and I'm sure many an audience member went home to try out something new. | |
An interesting side note here is one of her, and many other people's, not so great experiences. Many people often fantasize about dangerous things. In this case, Annie had fantasized about being gang raped. So they set up a movie scene where she got what she wanted. She knew everyone and had agreed to the script and everything. Much to her surprise, she didn't enjoy it at all. A lesson to be learned for us all - Not all fantasies should be fulfilled. Think about what your doing and look for consequences and dangers. Annie says she's never had a rape fantasy since. All you mountain climbers think about this.
Part 3 - New York City
| | |
| --- | --- |
| | Annie showed clips from her ground breaking personal story Inside Annie Sprinkle. The movies concentrated less on the "Money Shots" and more on the women's perspective and enjoyment. She said that sometimes she would go into where her movie was playing and watch along. Even participating in some audience interaction. She livened our show by pulling out a muscle massager with a 50ft chord and helping audience members to relax as they watched. My seatmate got so excited, jumping up and down and waving, at the prospect that I vacated my seat to give him and Annie more room. |
But she ran out of time and didn't make it to our row. As she amused herself on the big screen, the real Annie sprinkle approached the screen with the vibrator and joined in. Wow
After that - We needed an Intermission
Part 4 - Taos, New Mexico
Annie described her growing weariness of conventional porn and the exploration of a more spiritual based theme. A lot of Indian incense and chanting, what have you. "Sex should be a spiritual experience" she said. She asked Garesh (or someone) to roll the film of her and a tree.
Part 5 - MOMA New York City
Back to NYC for more artistic films. Annie Sprinkle made actual government sponsored educational films to combat the AIDS crisis. Annie called out to the museum curator to have his intern start the film. Of course it was pretty much the same as the previous films prompting her to tell joke.

How can you tell an erotic film from a porno film?

In an erotic movie we use a feather. In a porno movie we use the whole chicken.

Which reminds me of another famous quote, I don't remember who said it. "Why is it that if you cut off a breast is rated R, but if you caress a breast it's rated X?
Part 6 - North Hampton Mass
| | |
| --- | --- |
| Having discovered, to her amazement, that she was lesbian, Annie embarked in a different direction in her films. She asked her wife of several years to roll the film. I think this is where she introduced porno by women and for women. | |
Part 7 - Present Day Atlanta
| | |
| --- | --- |
| | Annie asked the audience for ideas for new movies and showed the outline for her current project. Yes, she's still making films today and plans to continue for some time. |
Well, that's my commentary. I thought it was really interesting and I really enjoyed it. Some will be embarrassed and shocked that I admit I went to a porno show. Yes, it was a porno show. But it was also a whole lot more that just a bunch of pictures naked people having sex. It was educational about an industry we don't often get to see and commentary on ourselves as a society and how we're growing: I feel I learned and grew from the experience. We shouldn't be afraid of experiencing new things. If you disagree, at least now we can talk about it rationally because we have explored it and can talk from experience not ignorance.
The End
Tour Sponsors
Annie Sprinkle's Site
---