Prom Night at the EARL
May 5, 2001
By Stefan
The Punk Rock Prom at the E.A.R.L. with The Helgas and Catfight! and the Nowhere Squares. Needless to say, people got drunk at stupid. But we all had a good time.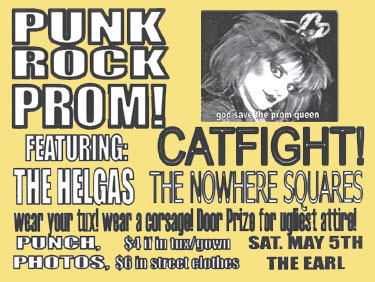 The Prom flyer

The Nowhere Squares open

Jennifer of Catfight!

Katy of Catfight!

Susanne of Catfight! as Carrie

Renita and Scooter

John and date

Joe and his Entourage

The King and Queen

A Happy Couple
This material is the property of Stefan and is not to be posted on other websites or published in any medium without express written permission.
---