Lola Pandora
Live at the Tabernacle
Atlanta, Georgia
July 22, 1999
Note: In the early days of the internet, live broadcasting was a NEW thing. In 1999 this was one of the first LIVE SHOWS and Lola Pandora was a huge sensation. With the coming of YouTube and Facebook and live streaming this show seems simple but in 1999 it was cutting edge stuff.
Lola Pandora brought her live internet talk show, Talking Trash with Lola Pandora to Georgia July 22, 1999. It was held at the Tabernacle in downtown Atlanta, Georgia adjacent to the Olympic Centennial Park. The event was broadcast live on the Internet and hosted by Excite.com. About 40 people showed up: pretty good for a weeknight in Atlanta.

On the left is a picture of Lola herself. During the breaks, several people got up and took pictures of her. She really liked to "Ham it up" for the camera making outrageous poses and throwing kisses everywhere.

Lola is a truly striking women! The kind of women you notice even in a crowded room. Big blonde hair, a curvaceous figure, and serious red FM pumps. There are Red Shoes on her posters, on the T-shirts, and even on the pens they passed out. I'm not sure whether she has the shoe fetish or is just encouraging it in her fans.
Every talk show host has to have a sidekick and Allura Bella (on the right) surely filled the bill. She was really funny as she read the internet chatroom comments and questions. Her body language said a whole lot more than she could say on the air. From her little laptop she would break-in with "I have a question from Polish Sausage. It was hilarious.

Allura Bella was really sexy and curvaceous too. Although the tight fitting, almost painted on pants were what caught my attention when she first walked on stage, it was the glitter makeup that kept me spellbound. Her awesome smile and perky head bobbing kept me mesmerized. She is way cool. You've got to see her in person. The pictures just don't do her justice.
I wasn't sure what to expect when I left for the show. I'd read about it only a few hours earlier in the Creative Loafing, the local entertainment newspaper, but it didn't have many details.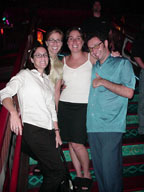 It just said a free talk show being being broadcast live on the Internet. Being so active on the Internet it immediately caught my attention. I was really disappointed that no one from work would join me for a Free show, but they were all afraid it was going to be about sex. They're so conservative here in the South. So I went alone.
Shortly after I arrived Jodi sat down at my table. It was immediately obvious she was with the show. We talked a little and she assured me it wasn't going to be all sex. Watch the archive yourself and tell me what you think. I think it was all sex.
It was a pretty interesting show. Several guests discussed everything from meeting people on-line to Cybersex to live sex. Audience members and online chatters got into the action too. I can't say I really learned anything, but it was definitely entertaining. Unlike a lot of other talk shows it was positive about love and relationships - well, mostly anyway.
Broadcasting live from "The Cellar," a bar in the basement of the Tabernacle, turned out to be a pretty tricky operation. After running a whole lot of wire and installing equipment they had some technical problems. First the microphones on the guests didn't work, then Allura's podium kept falling down. Isn't real life fun? Especially when you try to do something live.

But they did more than just do the broadcasting. They had a really elaborate sound board set up so they could add boings, cries, whistles, and other noises to the show. But let me assure you that they didn't add applause. They didn't even have a sign to tell us when to cheer, like Letterman, it was all authentic.
After the show, these two sexy kittens, Savage Kitten and Ruthless Kitten took a turn posing on Lola's big couch. It's really funny when people get excited about having their picture taken, but we all had fun.

They're big Lola fans and drove all the way from Florida, five hours they said, to see the show. I feel bad that I only drove 15 minutes.

I had a really good time. I met some really nice people, took some cool pictures, and got some autographs and other Free stuff. They were giving out T-shirts, pens and hats. It was very cool of Excite.com to bring the show to Atlanta.
Other links

This is Rachel. She's with the agency handling Lola's publicity, Dan Klores Public Relations. She was really nice when I arrived and was passing out the T-shirts and stuff. She's also was the one you could send your pictures to. I sent a couple and they appeared in the Lola Gallery.

The tour continuedon to New York City after Atlanta.
---